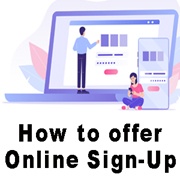 How can you offer online sign-up for your VoIP business?  Customers can go directly to your webpage and open an account to use your VoIP services.  Online sign-up means you are not limited by geography, and can easily sell services across town, across the country, or around the world.
What can online sign-up do?
Account Creation
All of your customer management and billing functions rely on the creation of a customer account.  With online sign-up, your customers do that for you, entering their own account data such as name and address, etc.  When they keystroke these things, it means you don't have to.  This not only streamlines your sales efforts, but reduces the risk of transcription errors.
Selecting a Service / Subscription
You can easily present several options for customers to choose from, each with its own price and included features.  For example, you can vary the number of included minutes or extensions and other functionality to create your own Gold/Silver/Platinum offer.  You can easily create a variety of packages, bundles, and subscriptions – all at the price you need.
Premium Services
Offering options for premium services (at an additional cost) not only boosts your profits, but it also is an excellent way for your customers to tailor the services to meet their own needs, which may change over time.
Examples of profitable add-ons can include voicemail and voicemail transcription, fax-to/from email, mobile and desktop softphones, toll-free services, multiple phone numbers, foreign phone numbers, and many more options.
Online Payments
Customers can set up online payments, and store a credit card, so that your VoIP services are automatically charged to their pre-defined payment option.  You can even offer fast-growing payment options like PayPal.
Request Info »
Telinta provides an easy-to-use cloud-based solution to offer online sign-up and brandable self-care portals for your VoIP business.  Our 24×7 Technical Support team can guide you on how to add our convenient API to your website.  The end result transforms your website into a cost-efficient eCommerce sales tool.
You and your resellers can easily offer a variety of popular services such as Hosted PBX, calling from a Mobile Softphone, Desktop Softphone, WebRTC, Mobile Top-Up, Calling Card and Pinless.  Your brand.  Your prices.  Our cloud-based platform.
Our unique award-winning Virtual Office solution offers not only includes online sign-up, but enables your customers to navigate through a series of brandable self-service portals to customize their own VoIP solution during the sign-up process.  Your users can select their own phone number, configure IVR and auto-attendants, set up extensions, route calls by time of day and day of week, and more.
Want to learn more? Contact us today.