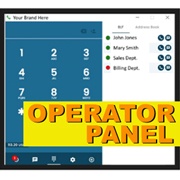 Managing the day-to-day operations of a busy business office is no easy task, especially when employee phone calls are involved.
What is an Operator Panel?
An Operator Panel is a unique tool added to a softphone which enables a receptionist to see which team members are busy on a call.  As long as those team members are on the same PBX as the receptionist, the Operator Panel can indicate who is busy on an active call, and who is not.  This enables the receptionist to route calls to available team members, take messages, transfer calls more efficiently.
For providers of Hosted PBX, this tool can be a valuable differentiator to win and retain business customers.
Request Info »
Telinta recently enhanced its brandable Desktop Softphone solution, adding a convenient option for Hosted PBX providers to offer an Operator Panel.  Together with Telinta's Busy Lamp Field (BLF) capabilities, the Operator Panel enables a receptionist to see at a glance which team members are on an active call.
This brandable Desktop Softphone solution is designed for Windows, Mac, and Linux users, for both laptop and desktop computers.  The solution includes both attended and unattended call transfers, SMS/MMS and free on-net messaging, address book, and more.
Telinta's Operator Panel is also available with the company's brandable WebRTC solution for ITSPs and their resellers.  Brandable WebRTC is available for Telinta's brandable Desktop Softphone customers at no additional charge.
With brandable softphone solutions for both Desktop and Mobile devices, Telinta offers VoIP service providers and their resellers the flexibility to create a highly-attractive Remote Work Solution for Unified Communications as a Service (UCaaS).
Want to learn more? Contact us today.