Mobile Top-Up for your customers
The ability for your customers to securely add funds to cellular accounts is an important benefit that many VoIP service providers can provide.  Mobile Top-Up, integrated into Telinta's TeliCore softswitch platform, is the ideal solution to recharge cellular accounts in many locations around the world.  With TeliCore, you can easily access your accounts with leading Top-Up providers through convenient APIs.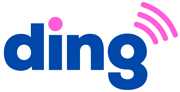 As the number one international mobile top-up platform in the world, Ding has been keeping people connected since 2006. Today, Ding's users have successfully sent over 300 million top-ups globally.  Ding reaches over 500 mobile operators in 140 countries worldwide.  Headquartered in Dublin, Ireland, Ding has regional offices in London, Barcelona, Bucharest, Dhaka, Dubai, New Jersey, Miami, Paris, and San Salvador.
Contact us for a special promotion for Telinta customers from Ding.

DT One (formerly TransferTo) operates a leading global network for mobile top-up solutions. With DT One, your mobile top-up business will have access to over five billion people across emerging economies. Our global network interconnects more than 550 mobile operators in 160 countries, enabling your customers to send prepaid top-ups and data bundles in real time.
Please contact us for more information on a special offer for Telinta customers.


Prepay Nation is a leading global provider of value-added mobile services specializing in International Mobile Top-Up and cross-border micropayments.  With mobile operator partnerships in 27 countries globally, Prepay Nation offers innovative services to expatriates who financially support their loved ones back home, utilizing the prepaid mobile ecosystem and a variety of distribution channels across the US, Canada, Europe, and the Middle East.
Please contact us for more information on a special offer for Telinta customers.