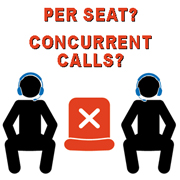 When selecting your hosted softswitch and billing provider, some important decisions come into play.  Does your provider charge per seat?  Per concurrent call?  Or per minute?
Per Seat?
This means your provider charges you per end user, similar to how software licensing is often sold.  Imagine that this "seat" is for an employee sitting at their desk, with a phone, and is a user on the PBX you provide to your customer.  If your softswitch provider charges you per seat, be skeptical, because not all "seats" are created equal.  Some users may generate many highly-profitable international calls, while other users generate very little billable traffic (and no profits) for your business.  How many "seats" are empty during vacation season — or when unexpected conditions arise?  Per seat billing can be a burden to your business because you are paying for users, whether they generate profits or not.
Per Concurrent Calls?
Concurrent calling is another way a softswitch provider might charge you, where you pay based on a pre-defined number of simultaneous callers at any given time.  Since the number is pre-defined, during off-peak hours or slow seasons, you still pay for the same number of concurrent calls, even if you do not use them.  Conversely, if your traffic spikes, your provider may limit your customers ability to make calls and block your traffic.  This can anger your customers, and limit your opportunity for growth.
Request Info »
Per Minute is the optimal solution!
Paying per minute is by far the most economical, scalable way to contract a hosted switching and billing provider.
Telinta offers you a highly economical way to pay only for the minutes of traffic you use, without commitments for seats or concurrent calls. Telinta provides unlimited seats and concurrent calls.
We charge you only for outbound, off-net minutes that you send to the PSTN via your own VoIP Termination carriers.  With Telinta, inbound minutes and on-net traffic is free!
We provide you with volume discounts, so your price per minute drops significantly as your VoIP business grows over time.  You and your resellers can enjoy a full portfolio of white label solutions, using your own brand and your own pricing.
Our flexible real-time billing enables you to charge your customers any way you need, including per seat, per extension, per month, per minute, and more.  Create your own promotions and subscription plans.  Create attractive bundles such as Hosted PBX augmented by our brandable Mobile Softphone app, or Desktop Softphone for both Windows and Mac.
Whatever services you decide to offer to your customers, Telinta will combine all your outbound minutes, and apply our volume discount.  We do this automatically, even if your volumes change from month to month.
To help your cash flow, our postpaid billing means you are not billed until next month for minutes you use this month.
Want to learn more? Contact us today.