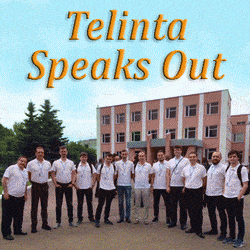 Telinta was once again invited to speak at one of the most significant VoIP switching and billing events in Eastern Europe, hosted by PortaOne.  Held in Chernihiv, near Ukraine's capital city of Kiev, the event was attended by 350 VoIP professionals from around the world, including several members of Telinta's engineering team, software developers, marketing and sales staff based in both the USA and Europe.
Last year, Telinta was invited to speak about how PortaSwitch provides an excellent basis upon which Telinta can develop its own proprietary solutions and tools for VoIP service providers.  This year, Telinta focused on one specific example of custom development, its unique Virtual Office solution.
Developed by Telinta, Virtual Office provides VoIP service providers a unique solution where end users can easily customize their own VoIP service "in the cloud" via Telinta's self-serve portals.  Navigating through a series of screens, end users can select their own features, DIDs, configure extensions, IVR and more.
This award-winning solution is perfect for meeting the unique needs of small and home-based business customers. With Virtual Office, end users do not need to use IP phones, but instead can both make and receive calls via regular analog phones without an ATA, including their regular mobile phone line.
Virtual Office's self-service capabilities lets Telinta customers easily expand their VoIP business across the country or around the world, marketing online without installer visits or shipping phone equipment.
Click here for more information about both events.