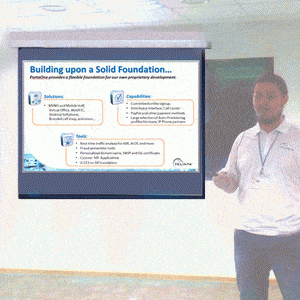 Over 200 telecom professionals from around the world recently gathered near Ukraine's capital city of Kiev to discuss important issues, trends and technology.  The event — the most significant VoIP forum of its type to be held in Eastern Europe — was hosted by PortaOne, the world's leading provider of VoIP switching and billing software.
Invited to present to PortaOne's customers and staff members, Telinta discussed its experiences in developing innovative new switching solutions for VoIP service providers.  Telinta discussed details on its full portfolio of hosted white label solutions for VoIP service providers, including its TeliSIMTM MVNO solution, WebRTC, Mobile VoIP and other solutions available from Telinta.  One key take-away of the day was that PortaOne provides very a flexible, high-quality foundation upon which custom solutions and tools can easily be developed.  Examples include Telinta's CallMonTM real-time traffic analysis tool and the company's TeliShieldTM fraud deterrent tool.
In addition, Telinta recognized its team of 24×7 Support Engineers, Solutions Developers and other employees as "the people behind their industry-leading technology."
Telinta's carrier-grade TeliCoreTM softswitch platform integrates world-class switching and billing capabilities from PortaSwitch with Telinta's own proprietary tools and solutions.