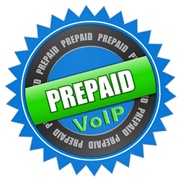 New customers often ask us how to offer Prepaid VoIP services.
Prepaid VoIP is perhaps one of the most attractive segments of telecom, with a wide variety of services being offered this way.
What do you need to offer Prepaid VoIP?
The most important capability needed for Prepaid VoIP is real-time billing.  This enables you to track your customer's usage in real-time compared to their Prepaid balance, even while a call is in progress.  To help your customers easily add funds to their Prepaid account, you will need access to credit card gateway providers.
What type of Prepaid VoIP services can be offered?  With the right billing capabilities, virtually any retail and wholesale VoIP service can be offered on a Prepaid basis.  Mobile VoIP calling "over-the-top" (OTT) via a smartphone app is one of the most popular ways to start a Prepaid VoIP business.  In many parts of the world, Calling Cards and Pinless services are offered for Prepaid calling.  Cutting-edge solutions such as WebRTC and Desktop Softphones are can also be offered by VoIP service providers.
What are the benefits of Prepaid VoIP?
By offering Prepaid VoIP, your customers pay for your services before they use them.  Since your operating costs (such as your VoIP Termination carriers) are based on your minutes of use, Prepaid VoIP significantly reduces your risk.
Telinta's cloud-based TeliCoreTM platform offers real-time billing, fully integrated with our world-class switching and customer management capabilities.  With Telinta, you can easily offer Prepaid VoIP under your own brand and your own prices.  You can do business in any currency or language you need, as many as you need.  Our white label solutions include brandable portals.  TeliCore is integrated with dozens of credit card gateways; plus our unique PayPal plug-in.  You and your resellers can even accept cash payments using our web-based Distributor Interface.
We will train you how to use our platform to sell Prepaid services, plus Telinta provides 24/7 live technical support, online documentation, and our unique KnowledgeBase.
Want to learn more? Contact us today.