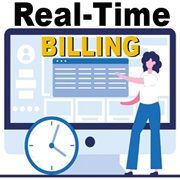 What is Real-Time Billing?  Why is this important for your VoIP business?
Billing is one of the most important parts of providing popular VoIP services such as Hosted PBX, SIP Trunks, calling via a Desktop or Mobile Softphone app, Work-from-Home VoIP, prepaid and postpaid VoIP calling, and more.
Real-time Billing means that your customer's Call Detail Records (CDRs) are calculated "on the spot" as the call is being made.  This capability is a pre-requisite for prepaid VoIP, but it also has significant advantages in postpaid services too.
For prepaid VoIP services, your customer purchases a bundle of credit from you (for example, $10 in calling) and then depletes this balance over time through minutes of use and other fees you charge.
In Real-Time, your billing system needs to:
Calculate your customer's usage while the call is in progress.
Rate each minute based on prices you have set.
Deduct the cost of the call from the customer's account balance accordingly.
Replenish the balance when the customer purchases more credit.
Real-Time Billing is required for offering services such as Calling Card and Pinless, or any type of prepaid VoIP.
Postpaid services involves invoicing your customers at the end of their billing cycle, usually once per month.  For example, your Hosted PBX customer may have a monthly recurring subscription fee, additional recurring monthly charges for foreign phone numbers that you offer, IP phone rental, plus fees you charge for attractive premium services like mobile extensions.  There may be non-recurring per-minute charges for international calls they made that period which vary month to month.
Real-Time Billing enables your user to see their CDRs instantly via a self-care portal to see how they were charged, the length of the call, and Caller ID for inbound calls if available.  Real-Time Billing is an important capability that also enables you to trouble-shoot problems wherever and whenever you need.
Request Info »
Telinta offers Real-Time Billing, fully integrated with our hosted softswitch platform, so CDRs for any of our white label VoIP solution are available immediately to you, your resellers, and your end users.  Our Real-Time Billing capabilities include not only CDRs, but also instant application of payments made to you by your customers, so your prepaid customers can recharge their balance and begin making calls without delay.  Your postpaid customers can rest assured that their invoice was credited promptly.
Likewise can quickly make changes to your prices or other business functions within Telinta's platform, implemented in Real-Time via an easy-to-use Administrative Interface.
We also offer Telinta's specially-developed cloud-based tools for Real-Time Traffic Analysis, enabling you to drill down into both technical performance and financial metrics for your VoIP business.  These tools enable you to see how your business is performing right now — without waiting for the end of the day or the end of the month.
Want to learn more?  Contact us today.