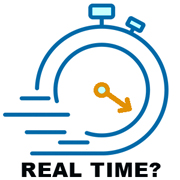 Real-time solutions are becoming more and more important for VoIP providers.  Your business moves quickly, as does your customers' businesses.  If you are not offering certain capabilities in real time, you may be falling behind.
Why is Real-Time Billing Important?
Real-time billing is important for ITSPs, regardless of whether you offer prepaid or postpaid services.  For prepaid VoIP, real-time billing is vital to track your user's prepaid balance, even while a call is in progress.
For postpaid services, such as Hosted PBX, ITSPs send an invoice for the previous monthly billing period.  However, to meet the demands of more sophisticated customers, you will need to provide real-time access to Call Detail Records (CDRs).  You, your users, and your resellers may need to review CDRs at any given moment to troubleshoot issues, or to resolve customer inquiries.  Real-time CDRs are an important differentiator and if you cannot provide them, you are at a competitive disadvantage.
What about other Real-Time Processes?
When customers make payments, are the funds credited in real time?
Are routing changes put into effect instantly?
Can service for your problem customers be discontinued immediately?
Is there a delay before your price changes or promotions become effective?
Request Info »
Telinta offers a fully integrated softswitch and billing solution, complete with real-time CDRs, and more.
With Telinta, you and your resellers can easily provide both prepaid and postpaid services, using your own brand and your own prices.  You can use your own carriers for VoIP Origination and Termination.
Our real-time billing enables easy access to CDRs.  Your users can review real-time CDRs via a brandable self-care portal.  Telinta also provides specialized portals for you and your resellers.
Your user's payments are instantly reflected in our billing system, whether their payment is made via credit card, PayPal, or a manual payment posted by you.  Ask Telinta about our brandable Distributor Interface, where your business can even accept cash payments paid to retailers.
Telinta enables you to easily enter your own pricing, and make changes with just a few clicks.  Create your own promotions, subscription plans, and volume discounts – all which you can put into effect instantly if you wish.
Need to quickly change routing from one carrier to another?  No problem.  With Telinta, you can make routing changes instantly via your Administrative Portal.  You can select your own routing plan, based on both performance and cost.  You can even have our cloud-based softswitch automatically make changes for you based on parameters that you configure.
Not only to we provide you with real-time CDRs, we also provide you with our unique CallMonTM tool for real-time traffic analysis.  See how your business is performing right now!
Want to learn more?  Contact us today.