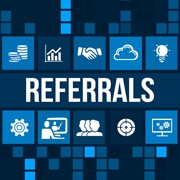 Do you know someone who would do well by opening up their own VoIP service provider business?  Telinta can help you to help them!
The Telinta Referral Program is a way that our current customers, partners and friends can refer their colleagues to us.  We will contact them to explain our solutions, provide them with a demonstration of our cloud-based TeliCoreTM switching and billing platform, explain our pricing, and answer their questions.  To help them get started, we can also refer your colleague to any of our partners for VoIP Termination, DIDs, and other important services.
Whether they are experienced VoIP professionals, or just starting out, we will provide them with comprehensive training to better understand our solutions.  We offer 24/7 live technical support, every day of the year.
Telinta is a turn-key opportunity for your friends to benefit from the fast-growing marketplace for Hosted PBX, Mobile VoIP "OTT" calling via a brandable smartphone app, as well as our unique Virtual Office solution designed to help VoIP services providers serve the profitable small business customer segment.
Many of Telinta's most satisfied customers, all over the world, came to us through referrals.  We are certain that your friends will be pleased with our level of service, and they will thank you.
Telinta will thank you too!  We offer a one-time $200 referral fee to you or your company whenever your referrals sign up with us.
Contact us today to learn more.