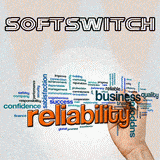 When choosing a VoIP switching and billing solution, reliability is key.  End users shopping for Hosted PBX, SIP Trunks, Mobile VoIP, Business and Residential services (or any VoIP service) might sign up with a provider because of price savings — but it is reliability that makes them stay with that provider for the long-term.
The same is true of many VoIP service providers shopping for a hosted switching and billing solution. They compare prices of various switching providers, and select the cheapest one they can find.  However low price can mean that reliability is questionable — and if your softswitch provider is not reliable, neither are the services you offer to your end users.
When shopping for a hosted softswitch provider, what do you need to know?
1. How long have they been in business?
Like many parts of the VoIP world, providers come and go.  They lose focus, or lack the financial backing to survive for the long term.  (What would happen to your VoIP business if your switching provider ceased operations?)
2. Are you locked into a contract?
Switching providers who cannot rely on quality to retain customers may rely on contracts that trap customers for a year or more.  (What incentive do they have for making customers happy if there are costly contractual penalties for leaving?)
3. Do they provide 24×7 Live Technical Support?
Support is key in solving problems that may arise.  More importantly, support can guide you through optimally configuring your solution to prevent those issues in the first place.  (Who would you turn to with questions on call routing, setting your own prices, helping to prevent fraud, and other vital parts of your VoIP business?)
4. Can you use any provider you want for DIDs and VoIP Termination?
Using your own providers enables you to better control your quality and costs.  If your switching provider forces you to also use their DIDs and termination, that could mean inflated prices and lack of redundancy.  (If one provider goes down, can you simply route around them, or does your entire business grind to a halt?)
Since 2002, Telinta has provided fully integrated switching and billing solutions to VoIP service providers around the globe.  Our carrier-grade TeliCoreTM softswitch platform is the largest of its type, anywhere in the world.  Our month-to-month contracts have no exit penalties, and many customers stay with us for years.  Our team of highly-trained engineers provide support around-the-clock.  We also provide comprehensive training, online documentation and more.  With Telinta, you have the freedom to use any DID and VoIP Termination providers you need, and if you would like we would be happy to introduce you to our trusted partners who offer special pricing to Telinta customers.
Still have questions? Contact us today to learn more.