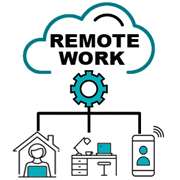 Today's business world requires VoIP providers (and the business customers they serve) to make rapid changes when needed.  The ability to provide Remote Work Solutions is an important part of that.
The trend to enable employees to work-from-home when needed is a key cost-saver for many businesses.  In labor shortages, searching for talented employees is no longer confined to a local area.  Your VoIP business can become an enabler to help your customers' remote workers be productive whether they reside across town, across the country, or across borders.
How can you provide Remote Work Solutions using VoIP?
Request Info »
Telinta offers a full portfolio of brandable VoIP solutions enabling you to offer the services your customers need, wherever they need them.  Easily route (and re-route) traffic to meet customer needs. Provide brandable multi-language portals, enabling your customers to control important functions, routing, add/delete extensions, and more.
Hosted PBX:
One of the fastest growing services in the industry, our white label solution for Hosted PBX offers the features and capabilities your users demand.  Auto-provisioning profiles enable you to easily deploy any number of phones, whether used at a remote worker's home or in the office.  Ask about the customizable options we offer to best meet your needs.
Virtual Office:
This unique solution enables your customers to configure their own hosted PBX, set up extensions, IVR, and more, via a series of brandable self-service portals.  With Virtual Office, your customer decides where calls are routed, for example to landline and mobile phones (without needing IP phones).  Whether working remotely, or on the road, Virtual Office keeps your users connected.
Mobile Softphone:
Telinta offers a brandable Mobile Softphone app which your users can download for free from iTunes and Google Play.  Voice, video, and messaging are all just a click away, enabling employees to easily work from anywhere.  Ask Telinta about SMS and MMS capabilities, with free on-net messaging for real-time collaboration!
Desktop Softphone:
The perfect complement to our Mobile Softphone, Telinta also offers a brandable Desktop Softphone for both Windows and Mac.  This easy-to-install software application enables both inbound and outbound VoIP calls, plus messaging and address book.
WebRTC:
This brandable solution can easily be used by remote workers for VoIP calling and messaging via any compatible browser.  Using your own URL, WebRTC provides all the capabilities of our Desktop solution, without needing to install any software.
Conferencing:
Telinta's solution for both moderated and unmoderated conference bridges can meet the needs for VoIP calling among an unlimited number of conference participants.
All these cloud-based solutions can be combined to offer VoIP calling options on any compatible device – Windows, Mac, Apple iOS, Android, laptop, desktop, IP phone, analog phone…  With integrated real-time billing, 24×7 technical support, and comprehensive
training — Telinta provides you with the options you need to win and retain lucrative business customers, virtually anywhere in the world.
Want to learn more?  Contact us today.