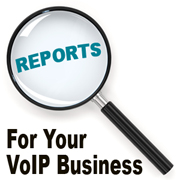 Running a VoIP business means you will need to track a variety of metrics to keep tabs on both your performance and profitability.
What are your profits?  Per minute?  Per day?  Per month?
How are your carriers performing?  Which provider benefits your business the most?
Can you export call detail records when needed?
Reporting is an important part of your business because it lets you fine-tune your processes for improvement.  If one of your VoIP Termination providers is hurting your call completion, it could impact your revenue and your customers' satisfaction.  Having the right data enables you to make important decisions, and measure your success.
Request Info »
Telinta offers VoIP service providers the ability to run the reports they need.  Comprehensive reporting is a standard part of Telinta service, available with no additional fees.  Not sure how to do it?  Our 24×7 Support Team is always available to help you.
With our cloud-based TeliCoreTM platform, you can easily schedule reports daily, weekly, monthly, or on-demand.  You can track your profits, comparing your costs to your revenue for a specific set of customers, or for a specific type of service.  Keep a close watch on how your carriers are performing, and shift your routing accordingly if needed.  With Telinta, you can make important business decisions based on real data, not just intuition.
Our fully-integrated Switching and Billing enables you to run accounts receivable reports with aging, plus a variety of other metrics.  Determine your most profitable destinations, to fine-tune your advertising and promotion.
Our unique CallMonTM traffic analysis tool lets you look at key financial and performance metrics in real time.  This includes tracking your profits per minute, Average Length of Calls (ALOC), and Average Success Rate (ASR).
You can run reports for popular VoIP services like Hosted PBX, SIP Trunks, mobile calling via a brandable softphone app, WebRTC, Calling Cards and Pinless, and more.
Want to learn how reports can help your VoIP business?  Contact us today.