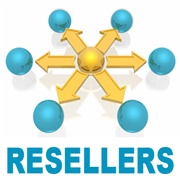 Many VoIP service providers serve not just end users, but other service providers who purchase services to resell them.  Resellers offer economies of scale that can help drive your overall unit costs down, while boosting your profits.
Having resellers offers many advantages, but only if you have the right resources to serve them.
What do you need to sell to VoIP resellers?
White Label Solutions
Just like you prefer to use your own brand, your resellers want to use their own brand too.  You need solutions which are fully white label, meaning your brand will never be visible to your reseller's end users.  This includes domains, URLs, portals, softphones, and more.
Volume Discounts
Many parts of running a VoIP business are volume-based.  Your VoIP Termination, DIDs, and softswitch costs may all become more attractive as your volumes increase.  Getting volume discounts from your providers enables you to also offer volume discounts to your resellers, creating a win-win for everyone.
Full Portfolio of Solutions
If your competitors sell Hosted PBX "only" — you have an advantage if you sell Hosted PBX plus a variety of related services such as SIP Trunks, Mobile Extensions, Conferencing, and Remote Work Solutions.  Even if your customers "only" buy Hosted PBX, having a broader portfolio will position you as a leader.
Integrated Billing
Selling VoIP services depends on easy, accurate, flexible billing.  If you need to run two separate systems (one for switching and another for billing) this is not only costly, but more complex.  Having a provider which can offer fully integrated switching and billing is key for you and your resellers.
Request Info »
Telinta offers a complete solution that enables you to serve an unlimited number of resellers, each using their own brand and the own prices, while purchasing services from you.
Our solutions are fully white label, protecting your privacy and respecting your business.  We provide you with brandable Reseller Portals, specially designed for your resellers to run their own VoIP business.  You can easily offer brandable softphones, and more.  Use your own providers for VoIP Termination, DIDs, and other services which you can in turn supply to your resellers as your own.
Our volume discount pricing drops your cost per-minute as your volume increases, helping to boost your profits.  Our integrated real-time billing is fully integrated into our softswitch platform, for a seamless solution.  With Telinta, your resellers can even have resellers of their own!
Since 2002, Telinta has enabled VoIP businesses around the world to serve both resellers and end users via our cloud-based TeliCoreTM softswitch and billing platform.  We offer you comprehensive training to help you get started, and 24×7 technical support.
Want to learn more?  Contact us today.