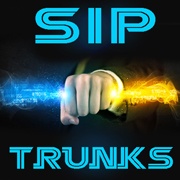 If you have ever asked the question "How can I offer SIP Trunks?" – Telinta has the answer.
Having all the tools you need to win lucrative business customers is key to a successful VoIP business.  Offering SIP Trunks is an attractive opportunity for VoIP service providers to serve business customers, even if those customers are not ready to abandon their existing PBX equipment just yet.
Telinta's SIP Trunking solution lets you work with your own DID providers to create and sell SIP Trunks.  Your business customers can benefit from the advantages of VoIP, without replacing their existing on-premise PBX and without moving to a Hosted PBX solution.
Whether your customer owns an IP PBX, or a legacy analog PBX, Telinta's SIP Trunking solution enables you to meet their needs.  You can offer a highly scalable cost-effective digital solution that can pay for itself by replacing your customer's outdated ISDN PRIs and expensive T1/E1 lines.
You can use any DID provider you need, as many as you need.  If you do not have a provider, Telinta can introduce you to several of our industry-leading partners who offer special promotions to our customers.  You can easily access your DID provider accounts via convenient APIs integrated into our cloud-based TeliCoreTM softswitch platform.  TeliCore combines the power of cutting-edge switching with our real-time billing, giving you a turn-key solution for you and your resellers.
Our SIP Trunking solution is part of Telinta's full portfolio of brandable VoIP solutions to help you win and retain business customers, no matter how big or small they are.  In addition to SIP Trunking, Telinta offers cloud-based white label solutions for Hosted PBX, Audio-Conferencing, Mobile "over the top" calling via a smartphone app, as well as Telinta's unique Virtual Office for home-based businesses.
Want to learn more? Contact us today.