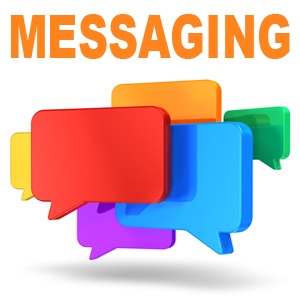 Messaging via mobile devices is one of the fastest-growing communications services worldwide.  Users are accustomed to sending short, quick messages to the people they interact with, often with photos, and both audio and video clips.
For VoIP providers, messaging is an extremely attractive way to compete, and to boost your revenue.  If your competitors offer messaging services, you need to as well.
What is needed to offer messaging services?
Mobile Softphone
A Mobile Softphone is an important part of any mobile services, an important decision in building your business.  Mobile services can be offered on both a standalone basis, or bundled together with other services such as a mobile extension for Hosted PBX.
SMS-enabled DIDs
In order to provide messaging services which are ubiquitous (to/from users who are not your own customers) you need SMS-enabled DIDs.  These are local phone numbers from countries around the world, offered by your own VoIP Origination carriers.  MMS-enabled DIDs are required for messages with photos, audio, and video.
On-Net Messaging
While SMS and MMS is required for off-net messaging, having on-net messaging is important for peer-to-peer communications between your users.  On-net messaging never leaves your own network and does not rely on third-party carriers.  This is by far the most economical and most profitable form of messaging you can offer.
Switching
Just as voice calls are routed using a softswitch, messaging is also routed in a similar fashion.  Your softswitch provider will need to handle both inbound and outbound messages.
Billing
You will need a way to measure and record the number of messages your users process, with the flexibility to create attractive packages, subscriptions, promotions and bundles – all priced and branded as you need them.  You will also need a way to process payments, whether your services are prepaid or postpaid.
Account Management
This includes capabilities such as online sign-up and account creation, self-care portals, stored payment methods, brandable solutions for resellers, the ability to process cash payments at retail locations, and more.
Request Info »
Telinta offers a complete solution for offering messaging services that complement your Mobile VoIP business.  Our cloud-based softswitch platform has APIs integrating industry-leading providers for SMS and MMS-enabled DIDs.
Our on-net messaging is completely free for you to provide between your users, without the need for a third-party carrier.  Our flexible billing enables you to decide whether you offer on-net messaging for free, or at any price you need.
We offer access to dozens of credit card processors, plus our unique PayPal plug-in, and our brandable Distributor Interface enabling your retail sales team to process cash payments.
You can easily offer messaging via our brandable Mobile Softphone, as well as our brandable Desktop and web-based softphones.  This offers a powerful combination enabling your customers to use your service via any compatible device: Apple, Android, Desktop, Laptop, Windows, Mac, and via any WebRTC-compatible browser.
Want to learn how?  Telinta offers comprehensive training to help you get started, and 24×7 technical support every day of the year.
Ready to get started? Contact us today.