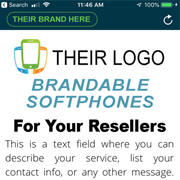 One very attractive way to grow your VoIP business is to have Resellers, which are smaller service providers who purchase services from your business to resell to their own customers.
Providing brandable softphones to your Resellers can help their business to succeed, thus helping yours to grow too.
Softphones enable your Resellers to participate in fast-growing markets for lucrative ITSP services like Hosted PBX and business services with both Mobile and Desktop extensions.
As businesses worldwide search for ways to "work from anywhere" softphones become the cornerstone of Remote and Hybrid Work solutions for a more complete Unified Communications solution.
But how can your Resellers use softphones with their own brand name and logo?
Request Info »
Telinta offers an attractive portfolio of brandable Mobile, Desktop, and even Web-based softphones that you can easily provide to your Resellers.
Each Reseller entity which you have configured on your Telinta environment can use its own brand for softphones – as many as you need, one for each Reseller!
By adding an additional Telinta environment, even your Resellers can have Resellers of their own – and we'd love to show you how!
Offering softphones to your Resellers boosts your recurring revenue with the services they buy from you.  Likewise they too can earn incremental revenue by charging their own customers for the added softphone – and both you and your Reseller benefit by the increased traffic generated by these convenient calling options.
With brandable softphones, users can both make and receive VoIP calls via any compatible device:  Android, Apple iOS, Windows, Mac, Linux, laptop, desktop, and even via their own browser.  Telinta's softphones also support SMS, MMS, and free on-net messaging.  Our brandable Desktop and WebRTC solutions include BLF, a built-in Operator Panel, and more.
To help win attractive new business customers, why not offer softphones with the end user business's name and logo?  You can easily do this, by configuring a separate Reseller entity within your Telinta environment.  You and your Resellers can offer this as a sign-up incentive for new business users, or as a premium-priced option.
Want to learn more?  Contact us today.