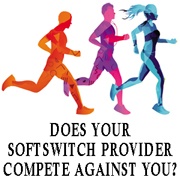 Many VoIP providers sell services to business customers:  Offices, factories, restaurants, retailers, and a myriad of other business user types.
To do this, your hosted softswitch provider becomes the central pillar upon which your ITSP business is built.  It is perhaps the most important decision a VoIP service provider can make.
But some hosted softswitch providers not only sell to ITSPs, but they also sell services directly to business customers, perhaps the same business customers you are trying to win.  Services like Hosted PBX, SIP Trunks, DIDs, and other services designed for end users can compete with your own offers.
Does your switch provider sell the same things you do?  Do they have access to your customer data or other sensitive information?  Do they ever make their own brand visible to your end users in any part of your services, such as portals or domain names?
Request Info »
Since 2002, Telinta has had one focus, and one focus only.  We provide highly-reliable switching and billing solutions to VoIP service providers.  Period.  We only sell to service providers and never provide services directly to end user customers.  Instead, we provide our customers with the tools, training, and support they need to succeed in the end user marketplace.
All of our solutions are fully white label, so that your customers will never see the Telinta brand in any of your services.  This has been our business philosophy for nearly two decades.
Want to learn more? Contact us today.