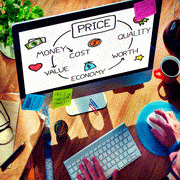 VoIP service providers tell us that they prefer simple, volume-based pricing when choosing a Hosted Softswitch solution.  Rather than paying per port or per license, or dealing with unpredictable hidden charges, many VoIP services providers prefer straight-forward no-nonsense costs, enabling them to forecast their profits over time.
Here's a few reasons why:
1. Scalability
With volume-based pricing, you can easily scale your business without incurring additional costs or commitments.  As your business grows over time, volume-discounts decrease your overall cost per minute, making each minute you sell to your customers more profitable.  If your business has peak periods or seasonality, no problem since you pay based on the number of minutes you use.  That volume can vary month to month without requiring infrastructure or contractual changes.
2. Automatic Discounts
Volume discounts only help you if they are actually applied to your account, without needing to manually make changes to your account, or committing a monthly volumes in your service agreement.  Does your Hosted Softswitch provider automatically apply volume discounts to your plan each month based on your usage?  Telinta does, so you can rest assured you are always getting the best rate for your usage volumes in any given month.
3. Predictability
As you become more established with your business, you will be able to predict your monthly costs over time.  If your business is just starting out, Telinta's monthly minimum is a stable, predictable monthly cost which you can count on when forecasting your financial results. 
4. No Hidden Charges
Some softswitch providers lure customers in at low monthly rates, but then tack on hidden costs by mandating their customers purchase DIDs and VoIP Termination at inflated rates, bundled together with switching.  The end result is decreased choice, decreased redundancy and increased cost.  At Telinta, we enable our customers to use any DID and VoIP Termination they need, as many as they need.
Most Telinta customers realize that selecting a Hosted Softswitch provider is not something that should be chosen on price alone.  Quality and support matters.  We offer a superior solution, complete with comprehensive training and 24×7 live technical support.
Want to see our volume-based pricing?
Contact us today to learn more.