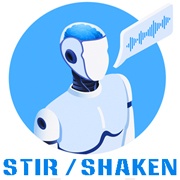 Many VoIP service providers will need to make some important decisions regarding new regulations in the US to help combat illegal robocalling that spoofs Caller ID.  Even if your company is not based in the US, this regulation could affect traffic you send to the US.
Known as STIR/SHAKEN, the new methodologies may offer upsides for your VoIP business.  Because of robocalls and Caller ID spoofing have become so widespread, call completion rates may suffer if recipients refuse to answer inbound calls.  As illegal robocalls decrease, people may stop screening inbound calls, and call completion rates across the industry could rise.
STIR (short for Secure Telephony Identity Revisited) works by adding a digital certificate to the call's Session Initiation Protocol (SIP) information.  The VoIP provider (or their VoIP Termination carrier) then attaches an encrypted certificate to the SIP header with the service provider's identity and a trust value.  Software on the receiving end can decrypt the STIR details.
SHAKEN (short for Signature-based Handling of Asserted information using toKENs) provides guidelines for calls that have incorrect or missing STIR information.
Some VoIP Termination carriers will offer options to help their customers meet STIR/SHAKEN requirements.  Other providers will offer more customized solutions, such as FCC filing assistance and technical capabilities which are integrated with the softswitch.
Request Info »
Telinta customers planning their approach for robocall mitigation will benefit from having a switching and billing environment hosted on one of the world's most advanced, highly-flexible softswitch platforms.  With Telinta, you can easily use any VoIP Termination provider you need to help meet your regulatory requirements.
As an option, our TeliCoreTM softswitch platform is also integrated with TransNexus, a leading provider of STIR/SHAKEN solutions for VoIP providers.  TransNexus offers services to help you become compliant and avoid your US traffic from being blocked.
After you've done your research and spoken with your legal advisor, Telinta can introduce you to TransNexus, as well as our VoIP Termination provider partners, to discuss your options.
Want to learn more? Contact us today.