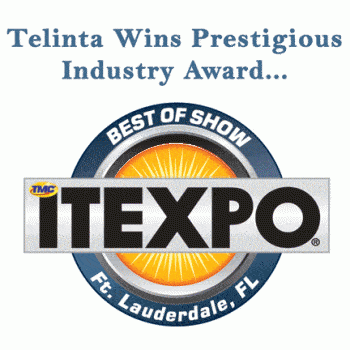 Telinta today announced that it was awarded ITEXPO's "Best of Show" Award in recognition of its outstanding contributions advancing the field of IP Communications.
Chosen as ITEXPO's Best Cloud Solution, Telinta's unique Virtual Office enables VoIP service providers to better serve small business customers.  With Virtual Office, end users can customize their own VoIP solution in the cloud via Telinta's self-serve web portals.  Without the need for IP phones or ATAs, calls can be received on regular landline phones, mobile phones or any other device the customer prefers.
In 2015, Telinta won "Best of Show" for its TeliSIMTM MVNO solution for travelers.
With continuous operations since 2002, Telinta is recognized within the industry as a company who has pioneered the concept of a hosted softswitch platform.