TMC selects Telinta as a top innovator at IT Expo in Miami.
Prestigious award recognizes Telinta for its innovative technological advancements, competitive differentiation and excellence in addressing market need and relevance.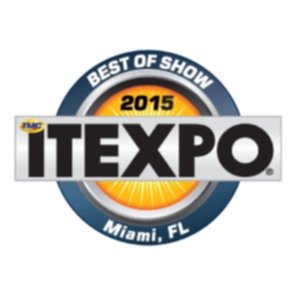 Springfield, NJ  (February 3, 2015)  Telinta, Inc., a global leader in hosted VoIP switching and billing solutions, today announced it has received TMC's Best of Show Award at IT Expo, honoring the company's unique combination of cloud-based softswitch solutions and cutting-edge mobile technology.  IT Expo is one of the world's best-known events focused on Internet Telephony, with over 7,000 telecom industry professionals attending this year's show in Miami.
The Award presentation took place within the Exhibit Hall of the Miami Beach Convention Center and was presented to Telinta by Erik Linask, TMC's Group Editorial Director.  Alex Ferdman, Telinta's CEO accepted the Award on the company's behalf.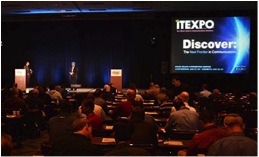 Telinta offers a complete portfolio of hosted VoIP solutions.  TeliCoreTM is Telinta's carrier-grade Class 4 and Class 5 softswitch platform, integrating Telinta's cutting-edge VoIP solutions with world-class Switching and Billing capabilities from PortaSwitch.
"We are pleased to honor Telinta for their efforts and creativity in developing advanced, powerful solutions for the business technology marketplace," said Rich Tehrani, TMC's CEO and Conference Chairman.  According to Tehrani, "Each of these solutions deserves recognition, but our Best of Show Award winners demonstrated innovative technological advancements, competitive differentiation and excellence in addressing market need and relevance."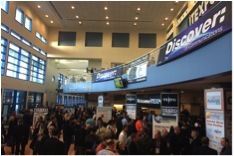 The Best of Show Award recognized Telinta for demonstrating creative and technologically innovative solutions or services.  The Award was judged on feature set, ability to work with existing standards and products, and contribution to the development of future communications products and services.
At the conclusion of IT Expo, Telinta hosted a reception for its team members to celebrate this prestigious honor.
IT Expo focuses on the latest technologies, regulations, essential issues and trends within the communications industry, including wireless and mobility, unified communication and collaboration solutions, VoIP solutions, cloud computing, customer experience and interaction, and much more.
About Telinta
Founded in 2002, Telinta, Inc. offers secure and reliable cloud-based Switching and Billing solutions for VoIP service providers around the globe. Telinta's full portfolio of white label carrier-grade solutions is highly customizable for VoIP service providers and their resellers.  This includes Hosted PBX, Call Centers, audio-conferencing, Business and Residential VoIP, Wholesale VoIP, Calling Card, Pinless, Mobile, Callback and other solutions.  Please visit us at www.telinta.com for more information.
Media Contact:
Anthony Stiso
Vice President of Marketing and Sales
+1 305.993.1199
anthony@telinta.com