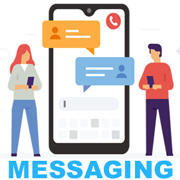 One of the fastest growing facets of the communications industry is providing the ability for user to message one another.  Whether short text messages, photos, audio and video – including messaging as part of your service offer can help you to win customers.
Messaging allows your users to communicate in short bursts, such as a simple yes or no, while multi-tasking with other projects.  It has become not just a part of our social lives, but our business lives too.  Even workplace applications such as Desktop Softphones and collaboration tools support messaging as part of a Unified Communications offer.
For users on a budget, messaging is usually more economical than using voice minutes.  Over-the-Top apps such as Skype and WhatsApp have grown in popularity since they offer free peer-to-peer alternatives to pay-as-you-go texting from incumbent mobile operators.
If you offer VoIP services, the ability to support messaging is one element to your success.  If your competitors support messaging, and you do not, your business is at a disadvantage.  This applies to a wide variety of services besides Mobile VoIP, such as Hosted PBX where the mobile device is used as a mobile extension.
How can you offer messaging services?
Request Info »
Telinta offers a wide range of solutions which can easily integrate messaging capabilities.  In addition to SMS and MMS, Telinta also offers free on-net messaging so that you can easily offer free or low-cost peer-to-peer communications between your users.
Our brandable TeliGlobe Mobile Softphone solution can be used with your own providers who offer DIDs enabled for SMS and MMS.  Our TeliCoreTM Softswitch and Billing platform has APIs integrating many industry-leading DID providers such as Bandwidth, Bulk Solutions, Commio, DIDWW, Inteliquent, VI Communications, and more.  With TeliGlobe, you can easily offer voice and video calling, plus messaging.
TeliGlobe is part of Telinta's family of brandable softphones, including our Desktop Softphone for Windows, Mac, and Linux computers, and our web-based WebRTC softphone solution – all of which support two-way messaging services, both on-net and off-net.
With Telinta, you can even use one-way SMS messaging for mass messaging, and for utility functions such as billing notifications via a wide range of your own SMS providers.
Want to learn more?  Contact us today.