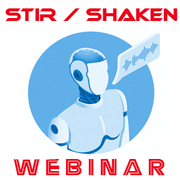 Since 2002, Telinta has built a robust ecosystem of industry-leading partners, bringing VoIP service providers the products and services they need to succeed.
Telinta has teamed up with TransNexus to present an educational webinar to help customers comply with their regulatory requirements for robocall mitigation.
Since 2021, solutions from TransNexus have been integrated with Telinta's Switching and Billing platform, enabling Telinta customers fast, easy access to the solutions they need from TransNexus to help mitigate robocalls.
Webinar Date:  April 18, 2023  11am Eastern Time  (GMT-5)
To replay the webinar, please visit:  https://telinta.com/TransNexus-Webinar
The webinar will also discuss special promotions offered by both companies for new customers, and will be both educational and informative for ITSPs delivering calls to the USA, regardless of what country they are based.
Want to learn more?  Contact us today.