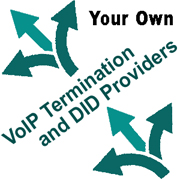 Why is using your own DID providers and VoIP Termination carriers so important for your VoIP business?
Since 2002, Telinta has frequently discussed this important question with VoIP service providers.  Over the years, we've learned that having this choice is crucial for your VoIP business.
While one-stop shopping may "seem" like a good idea to newcomers, in reality it could significantly put your business at risk both technically and financially.
Both the cost and quality of VoIP Termination and DIDs vary greatly from country to country.  If your softswitch provider forces you to buy VoIP Termination and DIDs from them, they rob you of making this important choice based on what's best for your business, balancing both cost and quality.
If one single provider supplies your switching as well as your carrier services, what happens to your business if that one provider has an outage?
Request Info »
With Telinta, you are completely free to use any providers you need, as many as you need.  Whether you use A-Z carriers for global coverage, or regional carriers focusing on a specific area (or both!) Telinta provides the flexibility you need.
Our cloud-based TeliCoreTM softswitch platform enables you to easily use your own providers, and control how you route calls to them.
If one of your carriers suffers a performance issue, TeliCore can easily route around the problem carrier, sending calls to one of your other carriers.  This redundancy helps prevent your business from grinding to a halt if your provider has issues.
Telinta also provides you with an extensive ecosystem of industry-leading partners for VoIP Termination, DIDs, and other important products and services.  We would be happy to introduce you!
Want to learn more?  Contact us today.