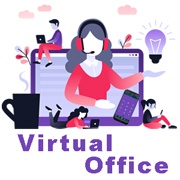 The opportunity for selling flexible, adaptable business communications services has never been better.
Businesses of all sizes are looking for solutions that not only let them work-from-home, but work from anywhere.  This includes voice, video, fax, messaging, and the ability to make rapid changes when unexpected circumstances arise.
To capitalize on this opportunity, your VoIP business needs a variety of integrated solutions.  Telinta has the answer!
Telinta's award-winning Virtual Office solution puts an impressive array of communications capabilities at your user's fingertips, enabling them to conduct important business processes wherever and whenever they need.
With Virtual Office, your business customers can easily customize their own VoIP solution via a series of brandable self-serve web portals.  Users can quickly route or re-route calls anywhere they need, without needing IP phones and without needing installer visits. Virtual Office is integrated with Telinta's brandable Mobile Softphone app, enabling both voice and video calling, plus messaging.
With this cloud-based solution, users can sign up online, select their own phone numbers, add toll-free numbers, set up PBX extensions, configure auto-attendants, voicemail, and music on hold.  Users can send and receive faxes, and host conference calls.  Telinta's real-time Billing helps you to offer convenient payment options such as credit/debits cards and PayPal, subscription plans, promotions and volume discounts, and brandable invoices automatically emailed to users as a PDF.
Virtual Office is integrated with our brandable Mobile Softphone app for both Voice and Video calling, Peer-to-Peer Messaging and SMS.  Also integrated are our brandable Desktop Softphone for Windows and Mac, and brandable WebRTC for VoIP calling via web browsers.
Telinta's Virtual Office solution also includes:
Fast, easy re-routing of Hosted PBX extensions via end user web portals
Feature-rich Audio-Conferencing
Self-Care Portals for end users and resellers
Attractive VoIP services without needing IP phones, ATAs, or installer visits
Want to learn more?   Contact us today.
Request Info »