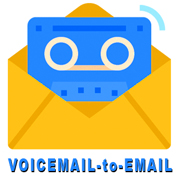 One popular feature for VoIP providers is Voicemail-to-Email.  When your user receives a voicemail, a copy of the recording is sent to a predefined email address as an attachment.
This feature is attractive to both business and consumer users.  For travelers, it can be vital.
Voicemail-to-Email also brings benefits to the VoIP provider:
Increased Minutes
Alerting your user that they have voicemail waiting may increase the likelihood of a return call, stimulating outbound minutes to destinations worldwide.
Additional Revenue
As a premium feature, Voicemail-to-Email may bring additional revenue and profits.
Competitive Edge
Features like Voicemail-to-Email can differentiate your services above other VoIP providers who do not offer it.  When you offer something your competitor does not, it gives you an edge.
Customer Satisfaction
Telecom is an enabler, offering capabilities your users rely on to manage their lives.  This can create a long-term bond to your service.
Request Info »
Telinta offers Voicemail-to-Email as a standard capability, included in its white label solutions for VoIP providers.  Your ITSP business has access to Telinta's robust portfolio of attractive VoIP services such as Hosted PBX, creating and providing SIP Trunks, Business and Residential VoIP, "over the top" calling with a brandable Mobile Softphone app, and more.
At no additional charge, you can offer an unlimited number of users a feature-rich VoIP service, including Voicemail-to-Email, Fax-to-Email/Email-to-Fax, Music on Hold, Multi-Language IVR, Call Queues, Hunt Groups, and much more.
In addition, we offer a robust ecosystem of industry leading partners for capabilities like Voicemail Transcription, Fax-over-IP, Robocall Mitigation, and more.
How can we help you? Contact us today.