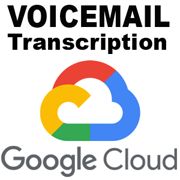 What is voicemail transcription? 
Voicemail transcription, also known as voicemail-to-text (v2t) is a capability provided by third-party providers to complement your Telinta service.  This capability requires sending your voicemail to a third-party provider (ie, Google Cloud) who then performs the automated transcription.  The transcribed text is then sent to your user via a predefined email address.
Telinta has integrated our hosted softswitch and billing platform with Google Cloud for voicemail transcription.  This provides Telinta customers with an extremely economical pay-as-you-go solution for voicemail transcription in over 125 languages and dialects, with sub-penny pricing from Google Cloud.
Telinta offers a special plug-in which enables Google Cloud to be used for voicemail transcription.
Request Info »
What are the benefits of voicemail transcription?
This capability is becoming more popular with end-users and helps provide a competitive advantage for your VoIP business.  It can be included as a standard part of your VoIP service, or offered as a Premium service for an additional fee you charge your users, thus creating new revenue opportunities.
The solution is extremely attractive for Hosted PBX, SIP Trunking, Mobile VoIP, and other brandable VoIP services.  With Telinta, voicemail and inbound calls are free!
Want to learn more? Contact us today.