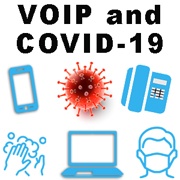 COVID-19 has changed the way the world does business.  For VoIP service providers, the "New Normal" creates opportunities like never before.
Now more than ever, your ITSP business can grow by offering the highly-flexible and economical telecom services that customers all over the globe demand.
As phone calls replace face-to-face meetings, and international calling replaces international travel — VoIP service providers can experience significant growth.  Even as businesses re-open, companies of all sizes may be extremely receptive to new providers who enable them to safe-guard their communications via more flexible and cost-effective alternatives.  VoIP has these advantages, and more.
According to industry analysts, Global Info Research, in their report Global Voice over Internet Protocol (VoIP) Services Market 2020, the global Voice over Internet Protocol Services market size is expected to gain significant market growth in the forecast period of 2020 to 2025.  Another analyst, Industry Research Inc. explained that technological innovation and advancement will further optimize the performance of VoIP, making it more widely used.  "The global impacts of COVID-19 are already starting to be felt, and will significantly affect the VoIP Services market in 2020."
What benefits can you offer your customers in a post-COVID-19 marketplace?
Flexibility:
Easily Route (and Re-Route) calls when the unexpected arises.
Real-time changes via self-serve web portals.
Multiple Languages, Multiple Currencies.
Economy:
VoIP offers significant savings over incumbent telcos.
Cloud-based PBX replace legacy PBXs.
SIP Trunking to offer cost-effective VoIP to legacy PBX owners.
Contactless Delivery:
Easy online sign-up, subscription plans, add/delete services.
Online payment options (credit cards/PayPal)
Auto-provisioning to deploy any number of IP phones, without installer visits.
Self-Service Portals:
Select your own phone number.
Configure extensions, call routing, and more.
Auto-Attendants, Dial-by-Name, customizable greetings/music-on-hold.
Anywhere, Any Device:
Brandable Mobile and Desktop Softphones, WebRTC.
Android, iOS, Windows, Mac, Laptop, Desktop, Smartphones, Tablets.
IP Voice/Video Phones, Analog Phones, Existing Landline/Cellular phone lines.
Ask us how you can do all this, and more.
Request Info »
Telinta enables your ITSP business to offer the type of services businesses and consumers demand in a post-COVID-19 world, whether they work-from-home, in the office, or on the road.
Our TeliCoreTM cloud-based Softswitch and Billing platform enables you to offer a full portfolio of brandable VoIP services.  This includes Hosted PBX, brandable softphones, conferencing, and our award-winning Virtual Office solution.
Want to learn more?  Contact us today.