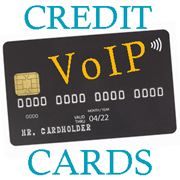 VoIP service providers need to deal with the question "How do I accept credit cards for my VoIP business?"
Now more than ever, electronic payment is a vital part of doing business.  Both businesses and consumers enjoy – and expect – the convenience of credit card billing for the VoIP services they buy.
Processing credit cards may be a challenge for VoIP providers.  The first step is to select a softswitch and billing platform which enables you to easily offer credit card payment.  This needs to be integrated holistically into the services you offer, not an awkward after-thought.
The next step is to open an account with a credit card processor (often called a credit card gateway) serving the country in which you do business.  This provider must be integrated with your softswitch and billing platform in order to process payments for your VoIP services.
Request Info »
Telinta provides you with a cloud-based solution for easily handling credit card transactions, and more.  Our platform is integrated with dozens of credit card processors, and we periodically add new ones over time.
With Telinta, you can:
– Accept both manual and automatic credit card payments for monthly invoices
– Enable customers to make payments via a brandable self-care portal
– Allow customers the option of storing credit cards on file for future use
– Handle prepaid balances and recharges both manually and automatically
– Provide credit card processing services to your resellers
Credit cards are just one of the payment options Telinta customers can offer to their users.  We also provide solutions for you and your retail partners to accept cash payments via our brandable Distributor Portal.
Telinta's PayPal plug-in enables you to accept online payments using a service trusted worldwide by consumers.  This convenient add-on option can provide you with a competitive advantage over other providers.
Once you open an account with your payment processing provider, you can easily accept credit and debit cards.
All this is fully integrated into our real-time billing, so the payments you receive are instantly reflected in the VoIP services you offer via our platform.  Examples include Hosted PBX, SIP Trunks, VoIP calling from a brandable mobile softphone app, calling card and pinless, and other popular services.
Want to learn more? Contact us today.