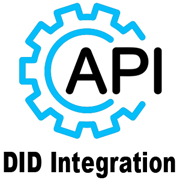 Running your own VoIP business means integrating the products and services of several different providers into a seamless, cohesive offer that you present to customers.
This may sound like a challenge, but having the ability to choose your own providers is one of the most important advantages a VoIP business can have.  Not being forced to use carriers that someone else chooses enables you to better control costs vs. quality of service.
DIDs (the phone numbers you use to originate your inbound VoIP traffic) are vital parts of your business.  One way to gain competitive advantage is to offer your customers the ability to shop through a DID inventory to select their own phone number when they sign up for your service.
Your customers may even select multiple numbers, to have a local presence for callers in different cities across the country, or around the world.  These phone numbers become lucrative add-ons for monthly recurring revenue, whether you are serving a multi-location corporation, frequent business travelers, or a grandparent who wants to be more reachable to family members in far-off countries.
Easily providing DID numbers to your users is a significant advantage for VoIP businesses, but to reap these advantages, you need a softswitch and billing platform with APIs to DID providers.
Request Info »
Telinta offers a cloud-based solution for switching and billing, complete with APIs integrating many of the world's leading DID providers.  With Telinta, you can easily access your account with many different DID providers via our TeliCoreTM Administrative Interface, and use those DIDs with the services you offer via our platform.
When you present your DID inventory to customers, they are not limited to just the DIDs you currently own, but instead they have access to your provider's complete inventory.  Have multiple providers?  Via the power of APIs in Telinta's platform, you can present your customers with combined inventories from your multiple providers, offering a much wider selection.
With our platform's APIs for DID providers, you don't need to purchase (and pay for) DIDs until your customers do.  This "just in time" solution helps you to control your costs.
Telinta white label solutions enable you and your resellers to sell Virtual Numbers, SIP Trunks, Hosted PBX, VoIP calling from a brandable Mobile Softphone app, and many more solutions – all with DIDs and VoIP Termination from your own providers.
You can even sell DIDs on a wholesale basis to other VoIP providers, using our brandable web portals and flexible real-time billing. With Telinta, you have the option to bill your customers for prepaid and postpaid usage, monthly fees, subscriptions, bundles, volume discounts, and other promotions.
Need DID providers?  Telinta offers a comprehensive ecosystem of industry-leading partners who offer special pricing to Telinta customers.  We'd be happy to introduce you!
Want to learn more?  Contact us today.