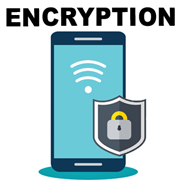 VoIP providers often ask "How can encryption help my ITSP business?"
Privacy and security gain more importance every year, both for your business and your users.  Likewise, some VoIP Termination carriers feel the same way, and only accept traffic that is protected by a VPN.
If you provide VoIP services in parts of the world where privacy and security are vital, having encryption is a must.
Mobile users are also looking for encryption for their VoIP calls.  With the high growth of Mobile VoIP, having the capabilities your users demand gives you an edge on the competition.
But how can you have encryption with the flexibility to meet your needs?
Request Info »
Telinta offers a unique, cloud-based solution to help VoIP service providers benefit from encryption.  Our Encrypted VoIP solution offers state of the art encryption for Mobile VoIP using our TeliGlobeTM Mobile Softphone app, and more.
TeliGlobe is our brandable Mobile Softphone for both Android and Apple iOS.  Your users can download TeliGlobe for free from both iTunes and Google Play.  The app automatically configures itself to be used with your VoIP services when your user enters their login credentials or scans a convenient QR code.  Your users can sign-up online from your website, or directly from within the app.
By adding Telinta's Encrypted VoIP solution, you have the option to add encryption to TeliGlobe either as a standard feature included in the service you offer, or as a premium service your users pay extra to add.  With Telinta, you can offer end-to-end encryption of both SIP signaling and media for on-net peer-to-peer calling between your users.  Remember, with Telinta on-net calling is free!
In addition to encryption for TeliGlobe, our VPN solution offers a virtually unlimited number of IPsec VPN tunnels for secure VoIP interconnection, compatible with industry-leading VoIP Termination carriers.
Need help getting started?  Telinta offers 24×7 technical support every day of the year, and comprehensive training.
Want to learn more?  Contact us today.