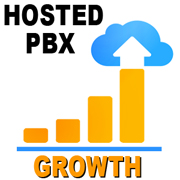 Industry experts Global Markets Insights have stated that the Hosted PBX marketplace grew to over US$5 billion in 2020, poised to grow at over 12% CAGR between 2021 and 2027.  Another analyst, Technavio, expects the growth rate to be even higher (13%) with more than half this growth coming from outside the US.  Bottom Line:  The growth opportunity for Hosted PBX exists worldwide!
Why is the market for Hosted PBX (also called Cloud PBX) growing so fast?
The Need for Remote Work Solutions
In our post-pandemic world, the "new normal" requires businesses to turn on a dime when the unexpected arises.  If the office is inaccessible to employees today, will it re-open tomorrow?  Companies need the ability to route (and re-route) calls as their situation changes.  Once your customers get used to having this flexibility, they are unlikely to give it up.  Ever.
International Calling is Growing
For Hosted PBX providers, international calling is a handsome revenue source, as well as an incentive for your customers to move away from high-cost legacy telecom providers.  The more a company calls internationally, the more attractive cost-effective VoIP will be.
Popularity of Portable Devices
In the past, when an employee was away from their desk, they could not make or receive calls.  Multiply this by several weeks of vacation, sick days, holidays, business trips, etc.  Today's world has changed; smartphones and tablets have made the "Mobile Extension" a standard part of Hosted PBX service.
Unprecedented Bandwidth Speeds
With broadband becoming more affordable, most businesses already have the connectivity they need to enjoy VoIP calling for Hosted PBX.  Expect even more bandwidth as time progresses.
Request Info »
Telinta offers a cloud-based white label Switching and Billing solution for Hosted PBX, with features and carrier-grade reliability that VoIP providers can depend on.  Our unique Auto-Provisioning Profiles support hundreds of popular IP devices.  Easily deploy any number of IP phones without the need for installer visits or manual provisioning at the customer premises.
Our award-winning Virtual Office solution enables you to provide PBX services to small and home-based businesses via online sign-up, brandable self-serve portals, and more – all without needing IP phones!
You can easily enhance your PBX service by offering brandable Softphones for both Mobile and Desktop devices.  This enables your customers to use your services via any compatible device: Windows, Mac, Android, Apple iOS, laptop, desktop, and even browsers that support WebRTC.  With Telinta, your users can work from anywhere.
Need to offer more than just Hosted PBX?  Easily add Messaging, Video Calling, Conferencing, SIP Trunks, and other VoIP solutions whenever you need, using your own carriers.
We offer comprehensive training to help you get started, and 24×7 technical support every day of the year.
Want to learn more?  Contact us today.