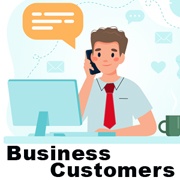 Internet Telephony Service Providers (ITSPs) often ask "How can I win business customers for my VoIP business?"
Business users can be the most lucrative customers a VoIP service provider can have.  But business customers can also be the most demanding, and winning the best customers is a competitive challenge.
VoIP providers have an edge in winning business customers, since the cost-savings and flexibility of IP telephony can be extremely attractive to businesses.  Businesses will be impressed with the added capabilities you can provide at a lower cost with cloud-based VoIP.
Flexibility
Businesses demand flexible call routing to accommodate office workers, work-from-home employees, and a hybrid mix of both.  Any employee, at any location, at any given time may need a different solution tomorrow than what they use today.  Can you make changes with just a few clicks?  Can your users?
Cost Savings
Businesses in any industry – large or small –  may look to cut costs.  Economic downturns can actually help ITSPs to succeed by offering cost-effective VoIP to customers who eagerly seek savings.
Mobility
While an employee is traveling on a business trip, they are not at their desk to make and receive calls.  How can you capture their traffic when they are on-the-go?  Businesses need mobile solutions, such as PBX extensions that can ring to a mobile softphone.
How can you offer what business customers need?
Request Info »
Telinta offers ITSPs around the world a robust portfolio of white label solutions to help win and retain profitable business customers.
With Telinta, you have access to several different solutions for Hosted PBX to meet your unique needs.  You can easily provision IP phones without sending an installer, using our cloud-based auto-provisioning profiles.  Don't want to use IP phones?  No problem.  Our Virtual Office solution enables your users to enjoy sophisticated PBX features, using their existing landline or mobile phones.
Virtual Office lets your users sign up online to open an account with your business.  Using brandable self-service portals, your users can select their own DIDs and toll-free numbers, configure extensions and call routing, set up IVR and dial-by-name directories, and much more.
You can offer your business customers a variety of brandable softphones for Android and Apple iOS mobile devices, Windows and Mac computers, and even a web-based softphone for WebRTC.
Telinta's highly-flexible real-time billing is fully integrated with our softswitch, so you and your users have instant access to call detail records.  You can create your own bundles and subscription plans, volume discounts, promotions, recurring and non-recurring charges for anything you need.  Our invoice design tool can help your business look its best!
You can offer Hosted PBX, SIP Trunking, Unified Communications, Remote Work Solutions, and other popular services.
Ready to move forward?  Contact us today.