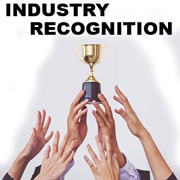 When choosing a switching and billing provider, one key attribute to look for is industry recognition.  The VoIP industry often acknowledges those few players who really stand out from the rest.
Question to ask:
How is your provider thought of within the industry?
Do they regularly participate in industry events?
How long have they been in business?
Have they won any awards?
Does the trade press cover their news announcements?
Request Info »
Telinta is not just considered a VoIP industry leader, but we helped pioneer the concept of a hosted softswitch and billing solution.  Since 2002, Telinta has served VoIP providers on every continent.
Our cutting-edge solutions have won three separate awards at international VoIP industry events.  These honors are rare.
We not only exhibit at events, but we are often invited to speak at them, so that our team members can share our expertise.  At times, we invite some of our industry-leading partners to speak with us.  Telinta's has built a comprehensive ecosystem of reputable partners, enabling our customers to easily shop for both VoIP Origination and Termination, IP phones, taxation solutions, robocall mitigation, and much more.
Telinta's announcements are considered significant newsworthy by VoIP industry journals.  Our webinars are considered educational resources, helping customers learn about important solutions such as Hosted PBX, SIP Trunking, Mobile and Desktop softphones, WebRTC, and others.
Telinta's industry reach and long-term focus significantly reduces the risk of operating your VoIP business.  Our 24×7 Technical Support operates every day of the year, and our comprehensive training helps you get started.
With Telinta, you have the peace of mind that you deserve.
Want to learn more?  Contact us today.