VoIP Innovations completes interoperability tests, helping build a strategic partnership between two market leaders.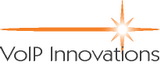 VoIP Innovations is pleased to announce that they have successfully completed interoperability testing with Telinta, a global leader in cloud-based switching and billing solutions for VoIP service providers.  The two companies offer complementary services, partnering together to better meet the needs of mutual customers.
"VoIP Innovations is an important resource for VoIP service providers offering Calling Cards, Pinless, Hosted IP PBX, SIP Trunking, Residential VoIP and other services from Telinta's platform," added Alex Ferdman, CEO of Telinta.
Customers can rest assured that Telinta's carrier-grade platform is compatible with the high-quality services they purchase from VoIP Innovations.  This strategic partnership with Telinta, including interoperability testing, helps ensure a more seamless solution for customers.  Interoperability testing is an important step, since it identifies potential compatibility issues, before these issues can impact customers.
Services from VoIP Innovations are easy to configure on Telinta's user-friendly switching platform.  Customers can access their VoIP Innovations account to purchase DIDs and E911 services via a convenient API integrated within Telinta's TeliCoreTM switching and billing platform.
TeliCore is Telinta's cloud-based Class 4 and Class 5 carrier-grade platform, integrating Telinta's cutting-edge white label VolP solutions with world-class Switching and Billing capabilities from PortaSwitch.
Telinta was founded in 2002 and offers secure, reliable cloud-based Switching and Billing solutions for VoIP service providers around the globe. Telinta's full portfolio of white label solutions is highly customizable for VoIP service providers and their resellers. Telinta's carrier-grade solutions include Calling Card, Pinless, Callback, hosted PBX, Call Centers, Wholesale VoIP and other VoIP services. Please visit www.telinta.com for more information.
VoIP Innovations is an Inc. 5000 company that specializes in providing the largest DID and termination VoIP footprints in North America. Their network includes over 500,000 DIDs in stock in over 8,500 rate centers in the US and Canada. Recently, VoIP Innovations expanded their footprint to include DIDs in over 60 countries and now offers A-Z termination. VoIP Innovations is owned by ABG Capital and is based in Pittsburgh, PA. To learn more about VoIP Innovations, please visit the VoIP Innovations Blog at voipinnovations.com.
Press Contacts
Natalie DeCario
Communications Specialist
VoIP Innovations
Phone: 412-532-2215
Email: natalied@voipinnovations.com
Anthony Stiso
Vice President – Marketing & Sales
Telinta, Inc.
Phone: 305-993-1199
Email: anthony@telinta.com