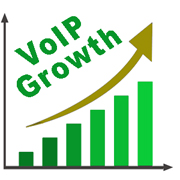 The market opportunity for VoIP service providers is expected to grow significantly, according to industry-leading global market research provider, Research and Markets (R&M).
In December of 2020, the global market for Business VoIP services (now estimated at US$26.4 Billion in 2020) was projected to grow to US$31.9 Billion by 2027 – roughly a 21 percent increase.
Of special note, R&M also noted powerful growth for Cloud-based VoIP solutions.
"The cloud segment is expected to dominate the market during the forecast period on account of the benefits associated with cloud such as affordability, scalability, flexibility, 24/7 availability…"
"The Global Cloud Telephony Service Market is expected to grow at a formidable rate of around 10% during the forecast period."
R&M also noted the benefits of cloud-based solutions are "expected to propel the market through 2025" with ongoing technological advancements expected to create lucrative opportunities for market growth over the next few years.
The research also predicted stellar growth for Mobile VoIP, citing the "shifting of voice traffic away from PSTN to Mobile and Internet networks paves the way for the emergence of VoIP…"
For emerging VoIP services, R&M also notes that WebRTC "packs more power" into VoIP.
In short, the time to build your VoIP business is now.
Request Info »
With Telinta, you can easily offer a full portfolio of VoIP services.  You and your resellers can use your own brand, your own prices, and your own carriers.
Our cloud-based TeliCoreTM softswitch and billing platform provide white label solutions for popular high-growth services like Hosted PBX, SIP Trunking, Mobile VoIP, WebRTC, as well as Telinta's own award-winning Virtual Office solution.
Whether your VoIP business is already established, or just starting out, Telinta provides you with comprehensive training and 24×7 technical support every day of the year.
Need help starting your VoIP business?  Since 2002, Telinta has helped VoIP providers around the globe.
Want to learn more? Contact us today.