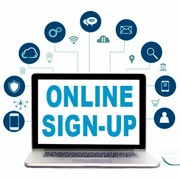 Customers enjoy the speed and convenience of being able to make purchases online for just about any product or service they need.  VoIP is no exception.
Offering online sign-up enables your customers to visit your website, and open their own account – without needing to interact with a live sales agent.  This "self-serve" capability lets your customers sign up whenever they want, 24×7, and frees you up to manage other parts of your VoIP business.
Your Internet Telephony Service Provider (ITSP) business may need to serve customers in multiple languages, and select the pricing plans and other options you present to them.
But how can you offer online sign-up for VoIP?
Request Info »
Telinta provides a cloud-based solution that enables you to offer a wide variety of popular VoIP services.  We supply the tools that you can easily add to your website to enable online sign-up.  With just a few clicks and keystrokes, your users can open their own account, select from a menu of subscription plans you create, enter payment info, choose a phone number, and more.
Our award-winning Virtual Office solution not only offers online sign-up, but includes a series of brandable self-serve portals enabling your user to customize their call routing by time of day and day of week.  They can select phone numbers and toll-free numbers from your own DID providers, configure extensions, auto-attendants and IVR, set up voicemail, and more.
Where most PBX business limit your range to a single city or region, Virtual Office's online sign-up and self-service enable you to win customers across town, across the country, or around the world!
Our brandable Mobile Softphone solution for both Android and iOS can also be offered via online sign-up.  Users can download the app for free from Google Play and Apple iTunes.  Upon logging in the first time (via credentials or a convenient QR code) the app can automatically configure itself to be used with your service, your prices, and your brand.
Once your user opens an account with your VoIP business, you can offer them a brandable self-care portal to review real-time CDRs, make payments, and other self-service account management functions.
With Telinta's highly-customizable portals, you and your resellers can do business in any language or currency you need, as many as you need.
Our TeliCoreTM hosted softswitch and billing platform enables you to benefit from our full portfolio of white label VoIP solutions such as Cloud PBX, SIP Trunking, Remote Work and Hybrid Work solutions, UCaaS, Mobile solutions, WebRTC, brandable softphones, and more.
We provide comprehensive training to help get you started, and 24×7 technical support every day of the year.
Want to learn more?  Contact us today.