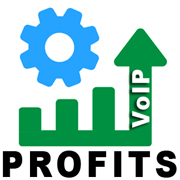 As you build your VoIP service provider business, how can you boost your profits?
1. Premium Services
Once you define your VoIP offers, you can provide your users with a variety of options that they can add at an additional cost.  Examples include Mobile and Desktop Softphones, additional PBX features, voicemail transcription, voicemail-to-email, fax-to-email, international DIDs, and many more options – which all can be offered for an additional fee, or bundled together into a monthly subscription.
2. Promotions
Many businesses run special promotions to attract new customers or stimulate calling by current customers.  Examples of promotions could be discounts to specific destinations, no sign-up fees or credits for new customers, etc.  Why not combine promotions with premium services, offering a free trial period for a premium service for a set period of time?  While some users may drop off when the promotion ends, others may keep the service for the long-term, thus boosting your profits.
3. Reporting and Traffic Analysis
How well do you understand your traffic?  Detailed reports enable you to see when your most popular traffic periods are by time of day, day of week, or other metrics.  Most popular destination?  Most profitable destinations?  Are there destinations where you actually lose money due to high VoIP Termination costs?  Are there any destinations you might consider blocking to reduce risk?  All these can be integrated into the rest of your marketing and sales strategy to help you make decisions based on actual traffic data, and not just hunches.
4. Branding
Building a brand is an important step in boosting your profits.  If you provide a reliable, high-quality service, your customers will be willing to pay more for the peace of mind it brings.  But the most vital part of branding is "brand awareness" where customers know who their provider is.  For example, if you serve business customers only one or two people likely see the brand name on your invoices, but every employee in the company sees your logo on a branded softphone app.  When they talk with colleagues or move to new employers over time, they will remember your company's name.
5. Resellers
Just like your VoIP business sells to end users, other people you know may wish to start their own VoIP business too.  Perhaps they have an idea on how to market services, or wish to target a slightly different customer segment than you do.  Resellers can purchase VoIP services from you, and sell to their own customers using their own brand and prices.  Resellers not only add revenue to your business, but they also add volume which may decrease your overall costs across all your minutes, thus boosting your profits.
Request Info »
Telinta offers a wide variety of cloud-based tools and solutions to help you build a profitable VoIP business.
This includes brandable softphones for Mobile and Desktop devices, plus web-based calling via WebRTC.  Telinta's brandable softphones enable your users to make and receive calls regardless of whether they are in the office, working from home, or on the go while traveling.
We offer dozens of innovative PBX features and optional services that you can offer at a premium price.  With Telinta's flexible billing, you can easily add any recurring or non-recurring charges you need.  You can even bill for products and services you offer outside of our softswitch platform, such as IP phone equipment rental, technician visits, and more.
You can create special promotions, subscriptions, and volume discounts.  With Telinta, you are in full control of your pricing!  We offer comprehensive reporting, both scheduled and on-demand, plus a real-time traffic analysis tool.
Telinta's white label solutions enable you and your resellers to easily brand your services, adding your logo to softphones and end user portals, designing invoices, and more.
These things, and many more, are covered in Telinta's comprehensive training, our 24×7 technical support, and our online KnowledgeBase for customers.
Want to learn more?  Contact us today.