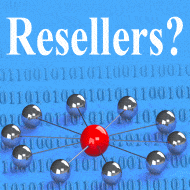 How can resellers help my VoIP business?  This is a popular question we hear from prospective customers.
Telinta understands that having resellers is an important option for many VoIP service providers.  What is a reseller?  Resellers are other VoIP service providers who offer your services under their own brand.  They buy services from you, utilizing your switching and billing environment so that they do not need to deploy their own hardware or software.
Having resellers can bring significant benefits, such as adding volume to number of minutes, DIDs and other services you purchase from your suppliers.  If your providers offer volume discounts, or require monthly minimums, having resellers is one way to quickly boost volumes.  When your overall cost per minute drops, all your minutes become more profitable!
Many resellers are telecom professionals who are knowledgeable about the VoIP industry and technology.  Some may be entrepreneurs just starting out.  Either way, resellers deal with their own end users, which greatly streamlines the technical support you provide.  Rather than answer the same question every day, you might only have to answer it once, so that your resellers can serve their own end users.
Telinta provides significant resources that helps you to win and retain an unlimited number of valuable resellers:
Completely "white label" solutions which can easily be branded.
Customizable interfaces specially designed for you, your resellers and end users.
Flexible Billing and Customer Management.
Convenient Payment options such as credit and debit cards, PayPal, and more.
Multi-Language portals and IVR, to target any customer segment or region.
Multi-Currency capabilities, enabling you and your resellers to grow worldwide.
Breadth of Portfolio, with many popular prepaid and postpaid VoIP services.
Want to learn more about how to serve resellers?  Contact us today.