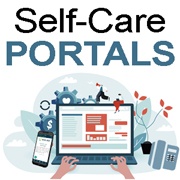 VoIP users become more and more sophisticated every year.  As they gain experience in configuring a wide variety of other technology services, they want to customize their VoIP services as well.  Self-care portals are important, whether you provide business services like Hosted PBX and SIP Trunks, or consumer services such as prepaid VoIP.
Common user self-care functions include:
– Adding an extension for a new employee
– Changing names as employees move to new roles
– Revoking privileges when an employee leaves the company
– Checking call detail records (CDRs)
– Entering or updating payment information
– Adding other VoIP services you offer
When customers can care for themselves, it increases their satisfaction, and streamlines your workload too.  Every function that customers do for themselves is one less function you have to do for them.  Once they become familiar with how to use your portal, they are less likely to switch to another provider and start from scratch.
Request Info »
Telinta offers a wide variety of brandable multi-language portals, including a customizable self-care interface for your end users.
Our unique Virtual Office solution provides the ultimate in user self-care, enabling your customers to tailor their own VoIP solution via a series of brandable self-serve portals.  This includes online sign-up, selecting DIDs and toll-free numbers, configuring extensions, call routing, setting their own business hours, configuring IVR, and more – all without interacting with you or your staff.
Your users can not only log in to see their CDRs, but they can see them in real-time!  Your users can make online payments via credit card and PayPal.  They can change account management data such as name, address, and email.
With our self-care portals, your users can easily activate premium services such as our brandable Mobile and Desktop Softphone apps.  This means added functionality for them, and added revenue for your VoIP business.
Telinta provides comprehensive training to help you get started, and 24×7 technical support around the clock, every day of the year.
Want to learn more? Contact us today.