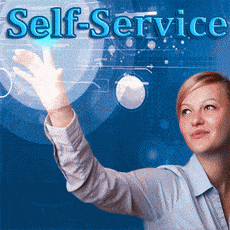 A recent article in Omni-Channel Customer Engagement cited an important trend in the value of self-service which can be of interest to VoIP service providers.  Based on customer survey results, Omni-Channel explains how VoIP businesses can grow, while containing costs.
"For starters, they can do what customers expect of them when it comes to self-service: make it plentiful, streamlined and easy to use."
The importance of self-service grew from 64% in 2015 to 71% in 2016, with customers wanting the ability to solve most issues themselves, placing high expectations for self-service.  As end users become more sophisticated, you can probably guess where this trend will head in 2017…
"Why is all this so important? According to the survey, 65 percent of those surveyed said they feel good about both the brand and themselves when they can resolve issues on their own."
Telinta understands that when your customers feel good about their experiences, chances are very good that will remain loyal to your VoIP business, and perhaps recommend your services to their friends and family.
Our cloud-based TeliCoreTM softswitch platform provides a wide variety of highly cost-effective self-service tools to help you meet the needs of even the most sophisticated end users, resellers, distributors and agents.
Our brandable web-based portals enable your customers to view real-time CDRs and other account data, recharge a prepaid balance, update account information and more.
Taking this one step further, Telinta designed its award-winning Virtual Office solution from the ground up with self-service in mind.  Virtual Office enables your business customers to create their own customized VoIP solution in the Cloud by selecting their own DIDs, configuring extensions, routing calls, customizing auto-attendant greetings and music-on-hold, plus other key features.  With Telinta, your customers can purchase your VoIP services online without needing to talk with a salesperson, without needing an installer visit and without owning an IP phone or other special equipment.
We'd like to show you how you how Telinta's cloud-based solutions can help you take self-service to the next level.