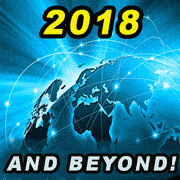 A recent market study reported that the future for Voice over IP service providers continues to look bright!  The report, entitled VoIP for 2018 and Beyond, stated:
"VoIP market forecasts for 2018 put global revenues for VoIP systems and services in excess of $76 billion. VoIP technology is gaining in momentum as new technology developments, increased functionality and advancements are introduced heading into 2018."
Both businesses and consumers enjoy the cost savings and flexibility of VoIP.  These, plus other important factors, continue to make it VoIP a top-performing technology as the industry continues to grow.  Hosted PBX, SIP Trunking, WebRTC, Mobile calling from a smartphone app, and other VoIP services offer significant benefits for users, and lucrative profit growth for service providers.
The report explained that VoIP service providers can offer "access to an abundant selection of interesting, enhanced and useful features" which can be customized into bundles, or added on as premium services.
Since 2002, Telinta has enabled VoIP service providers around the world to profit by participating in global growth of the VoIP marketplace.  Our integrated switching, billing and customer management enables Telinta customers to easily create bundles, promotions, volume discounts and more.
Our complete portfolio of business, consumer, mobile and wholesale VoIP solutions helps you meet your customer's needs.  You and your resellers can offer brandable services via our cloud-based TeliCoreTM softswitch platform, all without deploying your own hardware or software.  You can easily serve customers at their office, at home, on the road and while traveling.
Whether your VoIP business is already established, or just starting out, you can count on Telinta in 2018 and beyond…
Contact us today to learn more.