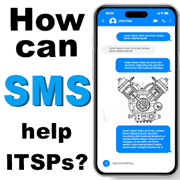 One fast-growing segment of the telecom business is Short Messaging Service, commonly known as SMS.  Why is SMS so popular?  It's efficient, profitable, and highly-addictive for your users!
How can SMS help your VoIP business?
Your users demand options for how they communicate.  This includes voice, video, and messaging.  Your VoIP business needs to offer more than just "voice" over IP in order to compete.  This includes not just text messaging, but also multimedia messaging services (MMS) enabling users to share photos, video, and audio.
Audio messaging is a valuable tool to serve multi-lingual international users (such as Asian visitors) who's native language makes audio an easier option than switching keyboards to the desired language.  International users are often the most profitable customers for ITSPs.
For service providers, Messaging requires a mix of services from multiple providers, such as specially enabled DIDs, as well as the flexible switching and billing capabilities needed to handle your Messaging traffic at the prices you wish to charge your users.  Messaging also requires a softphone, either Mobile or Desktop, as a key part of your offer.
How can you easily put together everything you need to offer Messaging to your VoIP users?
Request Info »
Telinta offers a robust solution for VoIP service providers, including the ability to easily support SMS and MMS.
With Telinta, you can use any DID provider you need, including many leading providers who offer Messaging-enabled DIDs for inbound.  Our TeliCoreTM softswitch and billing platform is also integrated with several leading providers for outbound messaging.
Our brandable Mobile Softphone is the perfect complement to your VoIP business, enabling voice and video calling, as well as both SMS and MMS.  Telinta also offers brandable Desktop Softphones for both Windows and Mac computers, plus a unique web-based softphone for WebRTC via your user's own web browser.  These softphone solutions are helpful in winning attractive business customers for Hosted PBX and other lucrative UCaaS services.
Like our free on-net calling, Telinta also offers free on-net Messaging (both inbound and outbound) between your users, which you can charge users for, or offer as a free peer-to-peer service.  With Telinta's highly-flexible billing engine, you are in complete control of the prices you charge!
We apply each outbound off-net SMS as one minute of traffic included in your Telinta volume discount pricing, where prices drop as your business grows over time.  With Telinta, inbound Messaging (like inbound calling) is free.
You can even integrate SMS into the services you offer via TeliCore.  You can configure your SMS notifications for payments, collections, password changes, special promotions, targeted offers, fraud prevention, and other options.
With your own SMS provider and Telinta's brandable end user portals, your customers can send SMS to multiple numbers at the same time, for example as advertising campaigns.
Want to learn more?  Contact us today.