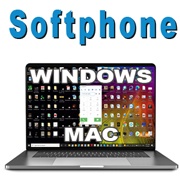 VoIP providers often need to offer a Softphone application for desktop and laptop computers.  This enables their users to make and receive VoIP calls, without any IP phone hardware.  A Softphone offers an opportunity for added revenue, as well as an advantage over competitors.
What's important in a Softphone for your VoIP business?
Is it brandable?
Does it include versions for both Windows and Mac?
Can it be integrated with a Hosted PBX?
Is there a comparable Mobile Softphone option?
Does it support working remotely when needed?
Does it support Messaging?
Can it display the user's call history and address book?
Are multiple languages available for the interface?
Echo Canceller (AEC) and NAT support?
Is it simple for users to set up?
Does it require any specific browser?
Is Training and Technical Support available?
Request Info »
Telinta offers a brandable Softphone solution for both Windows and Mac computers.  This enables your users to make and receive calls from both desktop and laptop computers — whether in the office, working from home, or while traveling.
Our Desktop Softphone is the perfect complement for our brandable Mobile Softphone, making a powerful combination for virtually any compatible device:  Android, Apple iOS, Windows, Mac, desktop, and laptop!
You can easily offer both prepaid and postpaid VoIP calling via the softphone as a standalone business, or as an add-on to other popular white label solutions such as Hosted PBX, SIP Trunking, and more.
Telinta offers comprehensive training to get you started, and 24×7 technical support ever day of the year.
Want to learn more?  Contact us today.