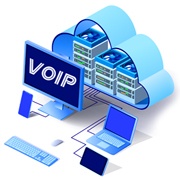 You can easily provide your customers with the option to use a VoIP "softphone" rather than a physical piece of IP phone hardware.
Softphones are software-based tools that (like any other VoIP end-point) enable your customers to make and receive calls using your service, offering a variety of attractive features and customizable functions.
Service providers often ask "What type of softphones can I use for my VoIP business?"
There are three popular types of softphone offered by VoIP service providers:
Mobile Softphone
Your users download a softphone app from the App Stores to their smartphone or tablet.  The app includes a keypad, addressbook, and frequently used calling features like call forwarding, call recording, call waiting, etc.  When inbound calls arrive, the app notifies the user via customizable ring-tones.  Our TeliGlobe Mobile Softphone solution uses push notifications for inbound calls as a way to conserve battery life.
Desktop Softphone
Desktop Softphones are software applications which your user downloads to their desktop or laptop computers.  The softphone places an icon on their desktop like any other application.  No browser is required and all your user needs is a microphone and speakers to use your VoIP service via their broadband internet connection.  Telinta's Desktop Softphone solution enables VoIP calling with both Windows and Mac computers.
WebRTC
A web-based softphone can enable VoIP calling using what is known as Web Real-Time Communications, or WebRTC.  Your user opens a specific URL in a WebRTC-compatible browser (such as Chrome and others) to use your VoIP service via your web-based softphone.  Telinta's WebRTC solution does not require any software installation and can be used for both inbound and outbound calling.
All of Telinta's softphone options can be branded with your company name, logo, and a clickable website URL.  Choose your own language and do business in any currency you need, as many as you need.  You can easily offer calling on a prepaid and postpaid basis.  You can even add messaging as an option.
Softphones can be used as a stand-alone service or integrated into another Telinta solution, such as adding a softphone extension to a Hosted PBX.  You and your resellers can offer your own pricing, create subscription plans and promotions, accept online payments via credit cards and PayPal — all under your own brand!  Our solutions include fully integrated billing and customer management, brandable portals, and more.  Use your own VoIP Termination carriers and DID providers.
How can softphones help your VoIP business? Contact us today.