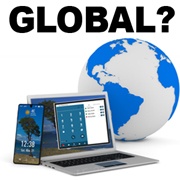 Business today is more global than ever.  Whether your VoIP business operates locally or internationally, you need the resources to support user demands.
Even if you focus your own sales efforts locally, your customers may need to work across borders, travel the globe, call internationally, have remote offices in multiple continents, and even just vacation in far-off exotic places.
A-to-Z Calling:
International calling is growing quickly.  This means your VoIP business needs carriers who can terminate calls around the world, in countries from "A to Z."  Even if most of your traffic focuses on one or two parts of the world, there is always the chance that your users may need to call somewhere different someday.
International Phone Numbers:
Your DID providers can offer phone numbers in many countries.  Even if you do not sell to users in those countries, your customers may wish to receive calls from those locations and require international phone numbers.  Small businesses many even wish to look big, merely by offering phone numbers in multiple countries.
Travelers:
Frequent travelers are often the most lucrative VoIP customers to have, but only if you offer services that can capture their traffic while they are away.  When your customers are traveling, their homes and offices do not generate calls.  If all you offer is an IP phone tethered to their desk, you miss their minutes of use while they are on-the-go.
Language and Currency:
Can you render invoices and accept payments to do business in multiple currencies?  Can you offer self-care portals in the languages you need?
Request Info »
Telinta enables customers to do business across town, across the country, or around the world.
Our hosted softswitch and billing platform enables you to use any VoIP Termination carriers you need for international calling.  You can use multiple carriers, as many as you need, enabling our TeliCoreTM platform to provide Least Cost Routing (LCR) to boost your profits.
Our cloud-based platform has APIs integrating many of the world's leading DID providers.  This enables you to present your provider's expansive DID inventory to your customers in addition to your own.  If you use multiple DID providers integrated with our switch, you can present their combined inventory to your users!
We offer brandable mobile, desktop, and even web-based softphone solutions that can be used anywhere VoIP calling is available via a broadband internet connection.  Offer both inbound and outbound VoIP calls via Android and iOS devices, laptop and desktop computers, Windows, Mac and Linux.
Telinta provides you with multi-language brandable portals and IVR.  You can do business in any currency you need, as many as you need.
Telinta's Class 4 and Class 5 switch is just a cross-connect away from over 60 of the world's leading carriers.  With infrastructure in the New York area, Telinta also has additional facilities in key markets across the US and around the world such as Bangalore, Dallas, Frankfurt, London, Mumbai, New York, Newark, San Francisco, Singapore, Tokyo and Toronto.
Want to learn more?  Contact us today.