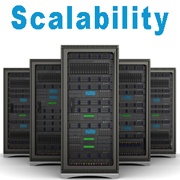 One important priority for running a VoIP service provider business is scalability.
Simply explained, your business needs to be able to add capacity as your business changes over time.
If you own and operate your own infrastructure, the ability to on-board new customers could be jeopardized by the delays to deploy the hardware and software needed to support those new customers.
For this and many other reasons, many of today's successful VoIP service providers choose a hosted softswitch solution.  Hosted switching and billing means that you have your own Environment within a larger platform designed with enough capacity for customers to easily expand whenever needed, without deployment delays.
Request Info »
Telinta offers a highly scalable solution for your VoIP business.  As your business grows over time, our TeliCoreTM platform will have the world-class switching and billing capabilities you need, ready when you are, 24×7.
Whenever you add new customers and resellers, you can rest assured that Telinta can efficiently handle your increased volumes without deployment delays.
Not only is our platform designed for scalability, but our unique "pay-as-you-go" pricing charges you only for the outbound off-net minutes you use.  As your usage grows, we automatically provide you with volume discounts to significantly decrease your cost per minute.  Telinta's carrier-grade platform offers virtually unlimited concurrent calls.
Our white label solutions enable you to serve an unlimited number of resellers, each with its own brand and pricing.  Use your own DID providers and VoIP Termination carriers, as many as you need!
Want to learn more?  Contact us today.