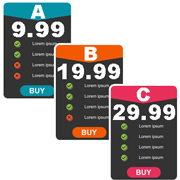 Many VoIP providers look for ways to offer subscription-based services, as an alternative to selling individual minutes.  "How can I create subscription plans for my VoIP business?"  Telinta has the answer!
Subscription plans enable you to easily create a variety of options for your customers.  Having a range of offers makes your overall portfolio appealing to a larger number of customers, as you offer multiple price points and customizable capabilities to meet a wider variety of customer needs.  (In today's competitive telecom marketplace, Telinta understands that one size rarely fits all.)
Subscriptions also let you increase your revenue by offering "add-ons" that command a premium price.  Toll-free service, foreign phone numbers, voicemail and voicemail transcription, fax capabilities, conference calling, and mobile extensions are all ways that you can boost your bottom line by offering attractive optional add-ons.  Having a the right variety of add-ons enables you to customize your bundles to better meet specific customer needs, helping you set yourself apart from competitors.  (If other providers offer a capability that you do not, then your business may fall behind…)
Telinta gives you the flexible tools you need to create a variety of attractive subscription plans.  Our real-time Billing is fully integrated into our cloud-based Switching, giving you the automation and flexibility that you need.  You can automatically charge your customer's credit cards each month, based on the subscription plan they selected.  You can also offer volume discounts and create your own promotions.
Our unique Virtual Office solution lets your customers subscribe to their own custom-tailored VoIP solution, selecting what they need via a series of brandable, self-service portals that we provide to you.  Your users can select their own phone number, configure extensions, set up an auto-attendant, customize recorded greetings, and much more.
With Telinta, you can build your own subscription plans, create your own bundles, and set your own prices — all under your own brand!
How can Telinta help you?  Contact us to learn more.