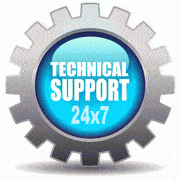 When selecting your Switching and Billing provider, one of the most important factors to consider is the Technical Support you will receive.
Some questions to consider:
Does your provider even offer Technical Support?
If so, is support available whenever you need it, or only during certain hours within a far-away time zone?
Is the level of support expertise what you expect?
Can you depend on them, just as your customers depend on you?
Do they use an advanced ticketing system to track all support steps taken?
And perhaps most importantly, do they back up their answers in writing?
Whether your VoIP business is new and just getting started, or well-established and growing — you will likely have questions about best practices, configurations, and resolving issues that can arise any time day or night.
Since 2002, Telinta has served VoIP service providers all over the world, so our "business hours" never stop.  We work across every time zone, every holiday, around-the-clock to provide live Technical Support, 24x7x365.
Our sophisticated ticketing system keeps track of all support inquiries, so that our engineering team can easily access a written record of every question you asked, and every reply we provided.  Having this information at their fingertips is key to providing world-class Technical Support for the long term.
Telinta backs up each and every Technical Support response in writing, sending you concise emails to guide you through each step.  This provides a useful resource which you can retain for future reference, and share among your staff as needed.
For more in-depth Technical Support, you can schedule a special session with one of our senior engineers who can help you via desktop screen sharing.
In addition to our live Technical Support, Telinta provides online documentation and we include technical tips in our quarterly newsletter.  We also provide you with comprehensive hands-on Training to get you started.
Our award-winning TeliCoreTM softswitch platform is by far the best-supported platform in the industry.  This is how Telinta does business, every day.
Contact us today to learn how our Technical Support can help your VoIP business.